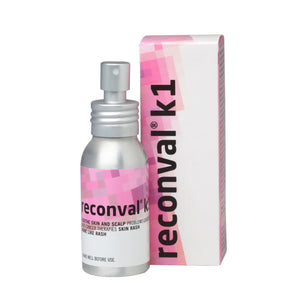 SOOTHE SKIN PROBLEMS CAUSED BY
ANTI-CANCER THERAPIES
(SKIN RASH • ACNE-LIKE RASH)
Suitable for sensitive to touch skin and hair covered skin.
How does it work?
Improves the water retention of the skin and makes the skin more elastic and healthy.
Strengthens and maintains the physiological barrier and protective function of the skin.
Ensures stronger resistance against potential irritants.
Prophylactic use of Reconval K1 reduces the appearance of acne-like rash without any dose reductions or treatment delays in anti-cancer therapy.
Active ingredients: Vitamin K1 and Urea
General advice on applying Reconval K1:
Apply Reconval K1 to affected regions of the head, neck and body
Apply Reconval K1 to your skin at least twice a day

Disclaimer: This product is not intended to cure or prevent any disease.